• Country Wedding Ideas • Flower Girl Dresses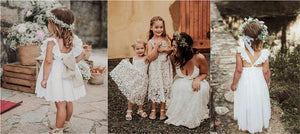 On the most significant day of your life, perfection is the goal. As you meticulously choose your own wedding dress, don't overlook the little ladies who hold a special place in your celebration. If you're in search of country flower girl dresses that embody rustic allure, you're in for a treat! Our carefully curated selection features a variety of enchanting dresses, each telling a story of pastoral romance. Explore these captivating options below and let inspiration blossom! 1. Country Flower Girl Dresses With Bow Elevate the charm of rustic flower dresses with the timeless addition of dainty bows. These countryside-inspired...
---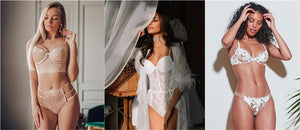 As you prepare for the excitement of your wedding day, sustainability takes center stage in the choices you make, extending beyond the dress to the intricacies of lingerie. Discover eco-friendly and stylish wedding lingerie trends for 2024 that align with your commitment to a greener celebration. Lace Wedding Lingerie Elegance meets sustainability with lace wedding lingerie, offering a timeless choice for eco-conscious brides. Delicate lace fabrics create intricate patterns that enhance femininity and grace. Opt for pieces crafted from organic cotton or recycled materials, ensuring that your bridal ensemble reflects both beauty and a commitment to a more sustainable future....
---
• Bouquets • Winter Wedding Bouquets
Have you ever pondered the origins of the term "winter wonderland"? The allure associated with this season is truly unparalleled, encompassing a myriad of natural wonders, from delicate blossoms to frost-kissed textures and an enchanting spectrum of colors. If you happen to be planning a wedding during these chilly months, fear not, for the winter offers a bountiful palette for your wedding bouquets. When it comes to floral staples for this season, you'll encounter classic white arrangements, as well as a harmonious blend of cream and blush tones, perfect for brides who favor neutral hues. Moreover, the winter landscape inspires...
---
• wedding decorations • Wedding send off ideas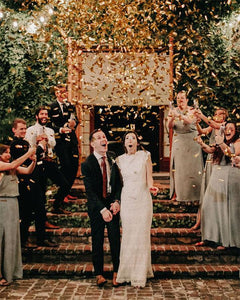 A wedding send-off is a wonderful way to conclude your special day with a memorable and festive farewell. Here are some creative and joyful wedding send-off ideas. Sparkler Send-Off: Distribute sparklers to your guests, and have them light them up as you and your partner make your way through a path lined with the sparkling lights. It creates a magical and romantic atmosphere, perfect for capturing stunning photos. Bubbles: Hand out small bubble bottles to your guests, and as you exit the venue, they can blow bubbles, creating a whimsical and enchanting send-off. Confetti Cannons: For an explosion of color...
---
When it comes to planning your dream wedding, the moment you send out those invitations is bound to give you goosebumps. It marks the transition from a world of private excitement shared with your partner to a celebration that includes all your cherished guests! Wedding invitations might seem like a small detail amidst all the wedding planning, but they hold immense significance. They are the very first point of contact you have with your guests and set the tone for your entire wedding experience, whether it's a formal church ceremony or a cozy backyard gathering. More than just pretty cards,...