• wedding decorations • Wedding send off ideas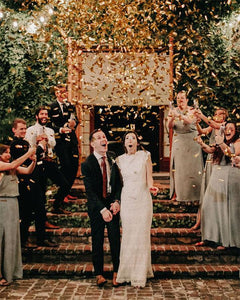 A wedding send-off is a wonderful way to conclude your special day with a memorable and festive farewell. Here are some creative and joyful wedding send-off ideas. Sparkler Send-Off: Distribute sparklers to your guests, and have them light them up as you and your partner make your way through a path lined with the sparkling lights. It creates a magical and romantic atmosphere, perfect for capturing stunning photos. Bubbles: Hand out small bubble bottles to your guests, and as you exit the venue, they can blow bubbles, creating a whimsical and enchanting send-off. Confetti Cannons: For an explosion of color...
---
• glitter wedding table runner • Wedding decorations • wedding table runner ideas
When it comes to wedding planning, wedding table runners are never the priority for brides. But the fact is that table runners for receptions are getting more fashionable and photogenic. Among all those table runner ideas, glitter table runner ideas are definitely something worth having.Instead of spending a lot of money, glitter table runners take your wedding reception to a different level with a low budget. From rose gold to silver or even gold, the glitter material shines itself and it makes the whole wedding venue chic and romantic.We've gathered some amazing glitter wedding table runner ideas that will definitely...