• Champagne Wedding Shoes • Wedding Shoes
Indulging in the effervescence of a glass of champagne is an experience of refined taste, much like the sophistication exuded by champagne wedding shoes when paired with a pristine white wedding dress. The subtle allure of the champagne color, reminiscent of nude hues, renders it a versatile and neutral choice that seamlessly complements any ensemble. In this guide, we explore the enchanting world of champagne wedding shoes, offering insights into styles, comfort, and the perfect match for various wedding themes. The champagne hue, akin to a neutral palette, effortlessly harmonizes with any color scheme. Its adaptability ensures that a pair...
---
• Floral Wedding Shoes • Wedding Shoes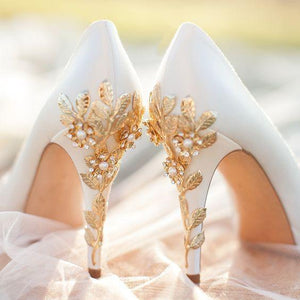 Generally speaking, weddings are all about flowers. From wedding bouquets to wedding centerpieces, you can see flowers everywhere. But have you ever thought about floral wedding shoes for your big day?It's really romantic simply thinking about wearing floral wedding shoes on the big day. In fact, an increasing number of brides choose to have floral wedding shoes with appliques and prints for their weddings.No matter the heels or the designs, floral wedding shoes will sure to add a touch of romance and elegance to the bridal look. What's more, they are more preferred for spring weddings. All you need to...