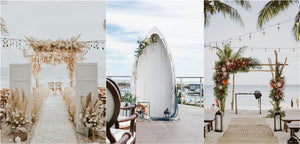 A beach wedding arch serves as the focal point of your ceremony, framing you and your partner as you exchange vows against the picturesque backdrop of the ocean. Whether you envision a rustic boho arch or a sleek modern design, there are numerous ideas to make your beach wedding arch a stunning centerpiece. Here are some creative suggestions to inspire you. Natural Driftwood Wedding Backdrop Ideas Utilize the organic beauty of driftwood to create a beach wedding arch that blends seamlessly with the coastal surroundings. Select pieces of weathered driftwood in various sizes and shapes, and secure them together to...
---
• Beach Wedding Decorations • Beach Wedding Dresses • Beach Wedding Ideas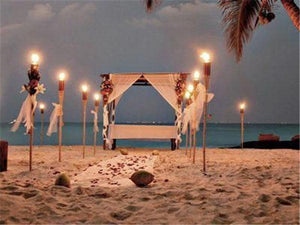 Beach wedding is for sure of the most romantic with all the aesthetic decorations of mother nature and anything nautical will be quite enchanting. Generally speaking, planning a wedding will be quite tiring but a beach wedding will make everything more relaxing. You can really have a chance to enjoy yourself without wearing uncomfortable high-heeled wedding shoes. All you need is a pair of sandals and your guests will be more entertained. We've gathered some brilliant beach wedding ideas that are so thrilling.Wedding Dresses When it comes to beach wedding dresses, all I can think about is being comfortable and...